WHY IS DOG OBEDIENCE TRAINING IMPORTANT?
Dog Obedience Training plays a huge role in the quality of a dog's life, allowing him/her to live a longer, happier life with his/her family. Dog Obedience Training provides a dog with structure, leadership, socialization, communication, and attention. It provides a clear and consistent line of communication between you and your dog. Obedience training sets the foundation for a healthy relationship as well as helping to prevent behavioral problems from arising.
We specialize in K9 behavioral problem solving with REAL training methods that work. We do not trick or treat your dog into temporary training. We establish a relationship with your dog that is permanent and based on respect, using PROPER motivation and reward.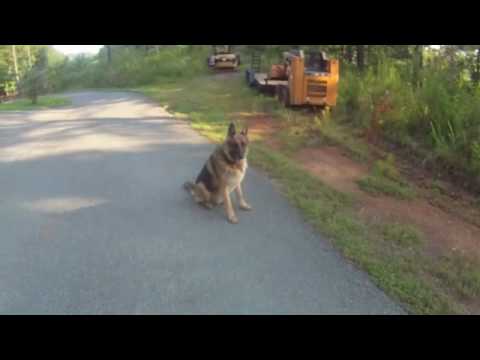 BASIC DOG OBEDIENCE TRAINING
Our Basic Obedience program will teach your dog manners and all the basic obedience commands when on a leash. The commands include: heel with an automatic sit, sit-stay, down-stay at your side, and silent hand signals. Your dog will also learn that when you say "no" your dog is expected to stop doing whatever he/she's doing when you say it. All necessary equipment including, leash & collar, manual is included.
INTERMEDIATE DOG OBEDIENCE TRAINING
Our Intermediate Obedience program will build on the Basic Obedience commands including sit & down-stays from a distance on leash, sit from down, and come with an automatic sit.  Each command will have a corresponding silent hand signal that is as effective as a verbal command.  All necessary equipment including, leash, collar,  and manual,  is included.
ADVANCED DOG OBEDIENCE TRAINING
Our Advanced Obedience program will give you control of your dog under heavy distractions when on a leash.  All of the Basic & Intermediate Obedience commands are taught as well as sit and down in motion.  Your dog will also learn to come off leash under limited distractions as well as hold the commands from a distance with a dropped leash. We will also include the ever-popular "place" command! All necessary equipment including, leash, collar, Mutt Mat, manual, and option to take the AKC Canine Good Citizen test is included
ELITE OBEDIENCE
Our Elite Obedience program will give you control of your dog whether or not he/she is on a leash. All of the Basic, Intermediate, & Advanced Obedience commands are taught.  Your dog will learn to work off leash under limited distractions as well as hold the commands from a distance.  All necessary equipment including leash, collar, Mutt Mat, training tab, manual, and option to take the AKC Canine Good Citizen test is included.

How does it all start?
We start everything with an evaluation to determine the psychology of your dog and the general relationship you have with him or her. Every dog is different and it is impossible to say exactly what we can do with each dog without seeing them first. Kind of like asking the vet for treatment over the phone, we really need to meet your dog to make sound training decisions. The evaluation process enables us to produce a program designed just for you. For our out of state clients, we will do most of the evaluation over the phone, reserving the final part when the dog is dropped off for training with the understanding that there might be some slight program modifications for new information.
Evaluations are free at our facility, Monday through Sunday, 9 am to 4 pm, and by appointment. Weekends are always possible but they are our busiest days. However, if you give us a little notice, we can generally fit you in. Plan to spend about an hour with us and bring a list of questions. This time is yours and we want to make sure you are comfortable with everything.
Regardless of whether you decide to train with us or not, the evaluation can prove very useful to overall insights into the psychology of your dog. Very few trainers have our diversity of experience in the various training arts. We handle and train hundreds of dogs every year, from coast to coast. There is a reason why people fly from all over the US to train with us. We know our business and get results. We don't just train dogs on the weekends or in a group setting in a parking lot somewhere. We are a Full time, fully functioning, fully staffed, fully licensed, and fully insured K9 training company. As a matter of fact, there are very few K9 companies in the entire United States that have the extensive list of licensing that we have. Check it our and see for yourself. When looking at our facility feel free to ask to see our insurance rider; we'd be glad to show it to you.
OK What's Next?
Once we design a program for you we need to figure out how to get it going. The best way to train your dog is the "Board and Train Method" Your dog is immersed in training 24/7 and more importantly, is exposed to all kinds of social human/ dog interaction. When your dog is not training, he or she is playing with other age, size, and/ or demeanor appropriate dogs. We have three very spacious dog runs where everyone gets their zoomies out. Why is this effective? Your dog is having tons of fun and learning at the same time. We can get advanced off lead obedience completed with many dogs in less than three weeks where doing it by the lesson with the owner might take 16 weeks. The board and train method is by far the quickest and best way to train. The training simply sticks better.
We have 24/7 surveillance on all dog runs and the kennel building. We also upload Flicker photos and YouTube videos of our client dogs about every two days so you can keep abreast of what we are doing.
Once we have trained your dog, we need to train you. Generally speaking, you will receive 2-4 "Follow-Up" lessons where we teach you what we taught your dog. More importantly, we build your muscle memory for handling so you are comfortable with all of the commands and everything we do.
If you live in the area, we conduct the follow-up lessons once a week or more; each lesson is about an hour.
If you had to drive quite a distance or come from out of state, we offer our private handlers quarters for your convenience. Our handlers' quarters were built and designed just for you, so you can be close to your dog and comfortable at the same time. Our handler's quarters consist of private bedroom, TV room with premium satellite TV and Wi-Fi, and private bath. You can also opt for our bead and breakfast program where we provide your meals as well as your room and training. While staying with us all of your dogs are catered to by our full-time kennel staff; you need to do nothing other than train and relax. Most follow-up lessons for our out of state clients take about a day and single night stay.
BY THE LESSON
The second way to train is "By The Lesson". In this method, we meet with you once or twice a week to teach you our methods. By the lesson training takes 6-16 weeks depending upon what level of training you choose. This method can also be very effective but is really dependent upon the handler practicing daily in between sessions. Basically, you will have to do what we do, work your dog seven days a week. If you have the time and stamina, this method may be for you.
Many folks ask us if their dogs will be angry at them when they come back for pick up after boarding and training and if they will miss the family. The answer is…not really. After the first few minutes the majority of dogs have forgotten completely that you left. They will be involved in way to many other things and having too much fun. Dogs do not seem to process time like humans do. Whether you left 10 minute ago or 10 days, it is all the same. They will greet you as if you never left. Our client dogs have lasting, fond memories of our facility and always seem to want to come back. One must only see the way their dog reacts when he smells our place when turning off the highway…they get really excited!
This brings up a bonus we offer all of our alumni: If your dog has graduated from one of our training programs, we offer boarding for you when you need it. Our boarding is not life in a kennel. Our boarding is fun in the runs with everyone else.
Regardless of what you choose, we will help you do everything possible for your dog. Our training programs are the best there are and we would love to prove it to you. When you have a moment, take the time to click on our Flicker Photo Link and our YouTube video links. You will get a chance to see thousands for pictures of our client dogs doing their thing.
Call us to schedule a free evaluation and while your at it, take a look at our facility…it rocks! We have four obedience trainers on staff so there is always someone here to talk to.